Fast & Reliable Shared Web Hosting
Our web hosting services are very flexible. All packages include the following with variations depending on your needs:
SFTP & SSH access
1 gigabyte of disk web space
Redundant internet connection
Nightly backups up to 2 weeks of storage with restore
General system monitoring
Ability to update website
Technical support
We register domain names for our customers and can point multiple domains to your website. Customized configurations are available upon request.
Our servers use UNIX based systems: Linux (CentOS, RedHat).
Our web servers run Stronghold, an SSL-enhanced version of the Apache web server, the most popular web server on the Internet today.
The open architecture of – and large number of extension modules for – the Apache server makes available to TAG Online clients the latest advances in support modules and features. TAG has also taken advantage of the open architecture directly by building customized Apache extension modules for its clients when needed.
Facility & Network Architecture
We maintain an advanced network connected to three Internet backbones (NTT, ISPNet and Optimum LightPath). Traffic is carried via two independent "metro-ethernet" products.
Using version 4 of the Border Gateway Protocol (BGP), traffic is automatically received and transmitted via the best of the available paths.
This offers an extreme level of fault tolerance. Problems at multiple Internet backbones will not render sites on the TAG Online network unreachable. More, use of wireless technology protects against a catastrophic failure of all fiberoptic cables coming into our facility.
This multi-homed connectivity also offers improved performance. On average, traffic between our network and users of our servers will follow a shortened path as compared to a site with connections on but one or two backbones. This reduces the delays in traffic between servers at our site and Internet users, yielding quicker response time.
Our facility is located in close proximity to a major power substation to reduce the likelihood of power problems. It also has 60 Kwatts of on-site backup generation capacity.
If shared web hosting isn't for you, we also offer dedicated hosting to manage your software.
If a shared environment is not the right fit for you, our dedicated and managed server hosting solutions may be what you are looking for. This is where you have a server or multiple servers dedicated to you. We take care of all the details including setting up a configuration that is right for you to maintaining it for you. Whether you need a simple one server solution or multiple server solution with load balancing and firewalls, we can help you.
Many clients would like the power of a dedicated server without the expense. We can set up a virtual server where you have your own environment (operating system, web server, etc). This gives you the independence and the protection you don't have on a shared server.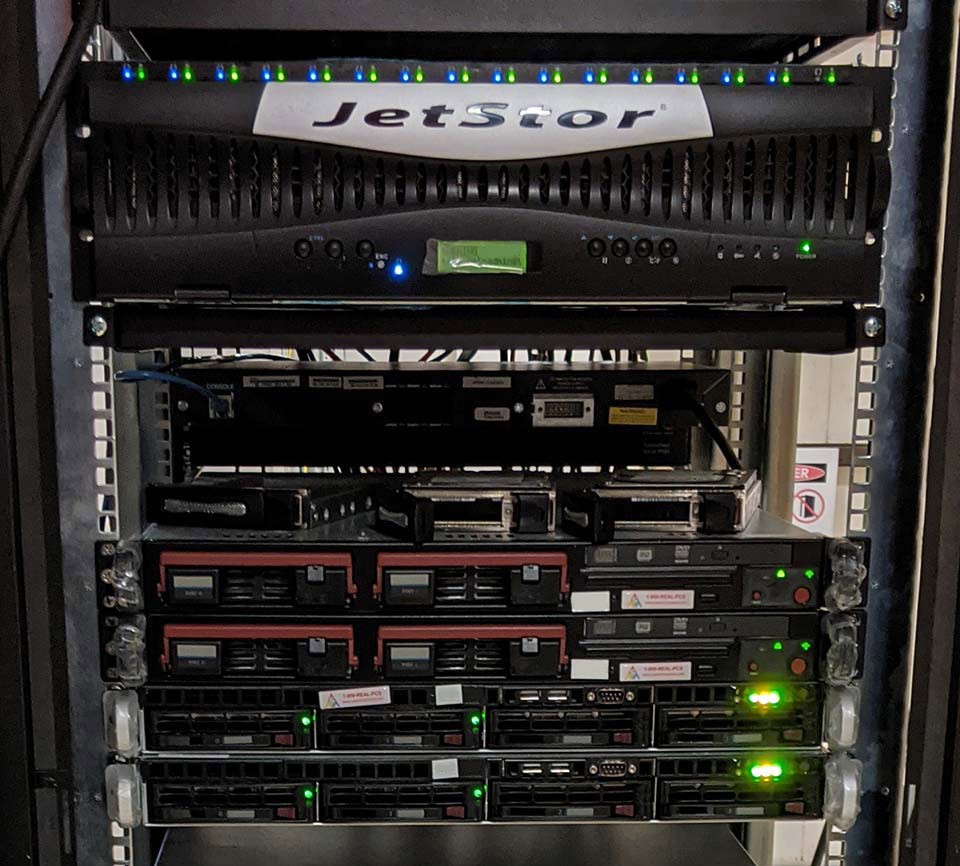 Colocation: Your Server, Our Space
TAG Online provides colocation services where we physically house your machine at our computer facility. We also provide managed colocation services using a variety of different machines running Linux. This provides a range of options from a basic entry-level server to enterprise-level servers with RAID protected disks and redundant power supplies.
We will provide and maintain the hardware and software platform for your server. We'll also provide the same redundant network connectivity, automated backup, automatic backup generator, excellent history of availability, and responsive customer support to which all our clients are already used.
We help with the set up and take care of all the details.
We back up our sites nightly on-site and retain 2 weeks of nightly archives. We retain archives from further in the past with decreasing density. Backups are also immediately streamed off-site, using an encrypted circuit, to permit for disaster recover as well as to provide a backup to the backup. The off-site archive stores a complete copy of the on-site backup.
Backups are always immediately available, and restores – of individual files or complete machines – can be quickly performed.
Host Your Website On Our Reliable Servers
If you are looking to host your website or software with us at an affordable rate, contact us to get the ball rolling.