Networking Made Easy! Teleseminar
Do you find it challenging to articulate things about which you are passionate? Are you ever a wallflower at networking events or unsure about how to include yourself in a group of people, whether in a social or professional situations? Find out how to be yourself while networking so you can easily and effortlessly let people know what you do, who you are, and what you have to offer. You'll discover how easy and fun it can be!
Join Amy Gideon and Valerie Paik for a fun 3-session teleseminar where you can learn how to be an effective networker in any environment – work, social, family – wherever you are.
Dates – Thursdays: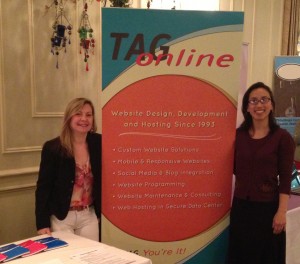 July 24th
July 31st
August 14th
Time: 7pm-8:30pm EST.
Place: The comfort of your home, via a toll-free number.
If you can't make the live call, you can listen to the recordings.  We'll also have a Facebook group page where you can send in questions and connect with fellow participants.
Who: Anyone Anywhere in the World! Feel free to invite friends, family, colleagues, etc.
Fee: $75
To Register: Click Here to Register Online
Or call TAG Online at 973-783-5583 or email sales@tagonline.com with any questions.
Expand your horizons and join us for this fun, energizing event!
About Amy Gideon
Amy Gideon is President and Co-Founder of TAG Online, Inc., a NJ based web design, development and hosting company since 1993. In addition to running a successful business with her husband Andy, Amy is Co-President of her son's PTA, holds a second degree black belt in Tae Kwon Do and has two sons.
About Valerie Paik
Valerie Paik is Vice President of Business Development at TAG Online. She is also PR/Marketing Coordinator for ASK Productions, Inc. She holds a second degree black belt in Tae Kwon Do, plays the clarinet in various homes and venues around NJ and NYC, is a professional performer and teacher of belly dance and enjoys running & triathlons.