The Importance of Making Your Site Secure with HTTPS

Site security is important and making sure your site is secure through installing a SSL Certificate is now more important than ever. SSL is a technology that creates an encrypted connection between your web server and your website visitor's browser that allows information to be transmitted securely and privately. Sites using a SSL certificate display a padlock icon and/or a green address bar and the URL always contains HTTPS (vs. HTTP) in the URL bar. Here's an example of what a secure URL site looks like in the Google Chrome browser:

Why Is This Important?
Google's Chrome browser has been flagging certain sites that do not use the HTTPS protocol by displaying a "Not Secure" message in the URL bar. If your site is not secure, here is what visitors may see in Chrome: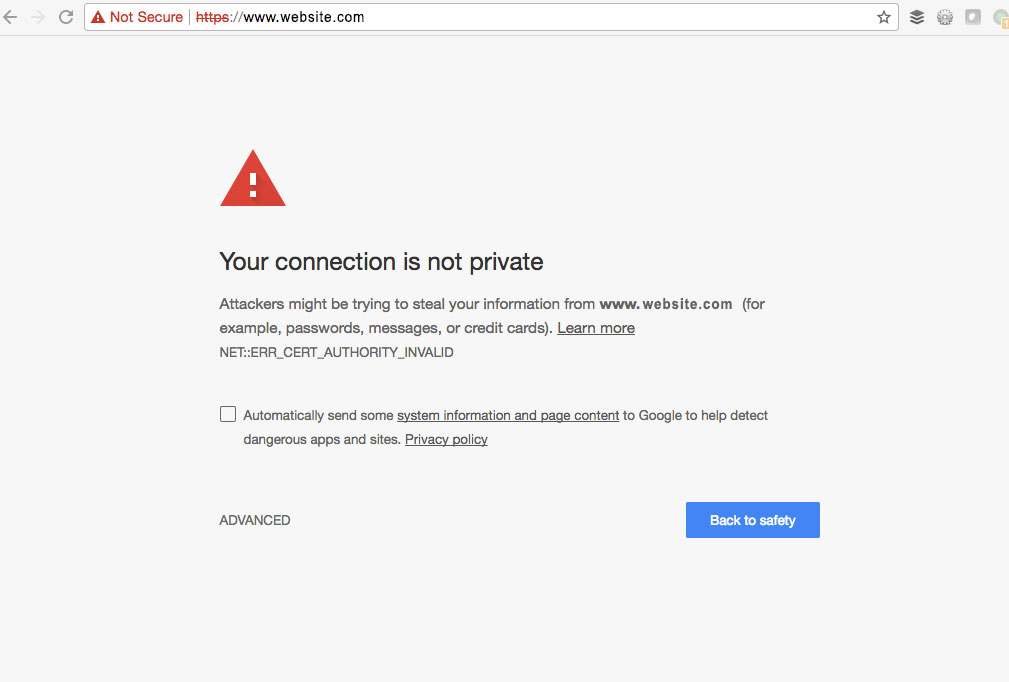 Not a great first impression. Starting in 2017, the sites being flagged as "not secure" were HTTP sites with password or credit card form fields, however Google eventually plans to "label all HTTP pages as non-secure."
Making your site secure builds trust with your visitors, shows your commitment to complying with security best practices and protects your site from possibly displaying a "Not Secure" message. There are also benefits regarding search engines – Search Engine Journal considers it part of the 4 Most Important Ranking Factors.
But don't just take our word for it, see this article from Forbes about the importance of adding security on your site or read about Google's plans for how they will treat HTTP sites that are not secure.
July 10, 2018 Update: In recognition of the move away from HTTP towards HTTPS as a best practice, Google Chrome has created, and started implementing, a plan for labeling HTTP and HTTPS sites. Starting this month (July 2018), Chrome started marking sites without HTTPS as "Not Secure." In September 2018, Chrome will no longer show the word "Secure" in front of HTTPS URLS (and just display the lock icon). In October 2018, Google will start showing the red "not secure" warning when users enter data on HTTP pages, and eventually Google Chrome plans to drop the "Secure" label. See this article for more info.
We encourage you to set up a SSL Certificate on your site, if you're not already using one and currently have a special offer for setting up your site to be secure. Contact us to find out more and get started.