Client Showcase – Johnnie M. Jackson
How often do you change your cell phone? Every year? Two years? More than that? What about your wardrobe? Running shoes? Handbag?
Like mobile technology, fashion, performance gear and personal style, online technology and tools used on the web are constantly changing and evolving. Part of having a good website [link those words to the post "The Importance of Having a Good Website"] means that your site reflects those relevant changes not only in technology and the web, but in your business. That requires the dreaded word most people resist…change. People often assume that changing or updating their site will be expensive, time consuming, demanding of their creative writing skills and a general pain in the neck. But, like most fears, the thoughts are much worse than the reality. Having a passion for creating elegant and powerful web solutions since 1992, we make the process easy, simple and even fun.
We've recently made a significant facelift to the website of Johnnie M. Jackson, a seasoned Executive Coach Mentor and Independent Consultant that resulted in a large client within two weeks after the redesign.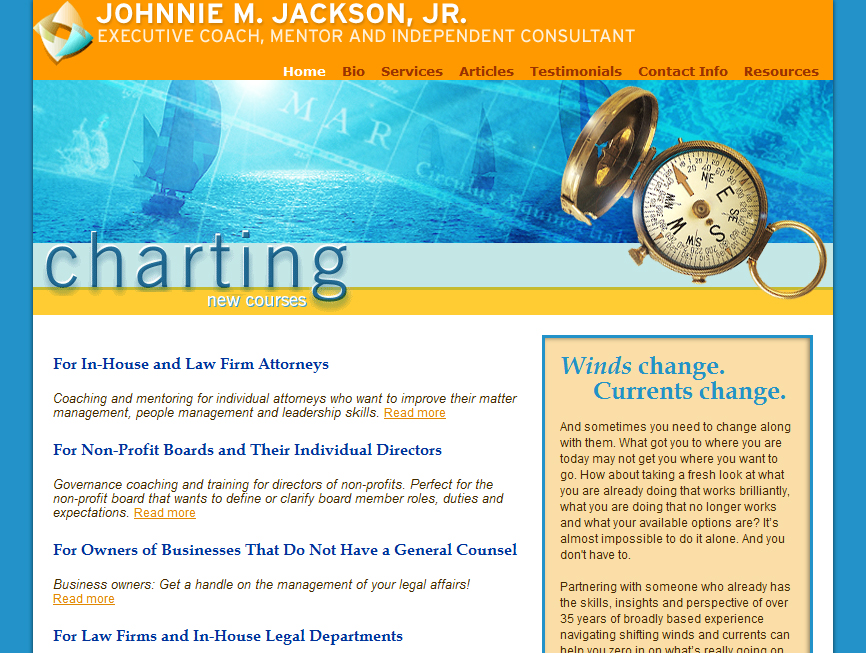 Here's a testimonial from Johnnie M. Jackson:
"I've been working with TAG for more than 8 years and they recently gave my site a facelift. The site has been very well received and, thanks to their expert guidance, it is much more of a marketing tool for me now. Not only was the whole process fun, easy and well-managed but, almost immediately after the site went live, new prospects and new clients started showing up because they were attracted to what they saw on the site. Awesome!"
– Johnnie M. Jackson, Jr., Executive Coach, Mentor and Independent Consultant